Equipment, Berthing and Facilities
Equipment
Cargo is efficiently handled by modern equipment that includes 5 rail–mounted gantry cranes (40 ST capacity), 2 rubber tire gantry cranes (40 LT ton capacity), 1 mobile harbor crane (104 ton capacity), 1 top lifter, 4 side loaders, 2 20-ton heavy lift forklift, 24 tractor-trailers, and a fleet of forklifts of various load capacities. The maximum reach outside the normal fenders used by the land-based gantry cranes with spreader is 115 feet; the maximum lifting height above the quay level at maximum reach is 72 feet.
Through a license agreement executed in December 2007 between The Port Authority and Matson Navigation & Horizon Lines, the carriers purchased and brought in three refurbished cranes that are used for Matson and Horizon ships. The remaining two gantry cranes are used to service all other vessels.
---
Berthing
The Port has four berths, adjacent to its compound, with 2,700 linear feet of wharf space alongside dredged depths of 28 to 35 feet. Pier F-3 is used primarily for fishing vessel and tenants performing fishing operations while Piers F-4 to F-6 accommodates containerships and general cargo vessels and passenger ships. Future infrastructure developments include the construction of Pier F-7 extending the wharf by 900 linear feet. Each of these four berths can service container vessels with a maximum beam of 33.55 meters. The Port also has access to two additional berths Pier F1 and Golf Pier managed by private counterparts, for fuel tankers.
Foxtrot-3
General Cargo, Passenger Vessels, Fishing Vessels
Length: 650 ft., 85 ft. wide paved in front of shed
Depth: 28.5ft.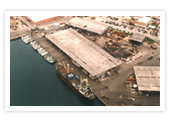 ---
Foxtrot–4, 5, 6
Container and General Cargo. May accommodate two full container vessels, three smaller breakbulk and container vessels, and other smaller vessels (60-200 ft.) Reconstruction completed in 1998 after severe earthquake damage in 1993.
Total Length: 1970 ft.
Depth: 32-36 ft.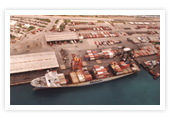 ---
Hotel Wharf
Passenger and fishing vessels, some general cargo.
Length: 500 ft.
Depth: 26'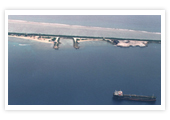 ---
Golf (Mobil) Pier
(Fuel Pier)
Liquid Bulk Tankers. Operated by Mobil Oil, Guam.
Length: 370
Depth: 50 ft.
---
F-1 (Shell) Pier
(Fuel Pier)
Liquid Bulk, LP Gas. Operated by Shell Oil, Guam.
Length: 550 ft.
Depth: 70 ft.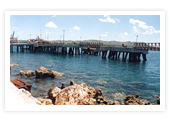 ---
Container Yard
26.5 acres of container storage area.
180 stalls equipped for reefer containers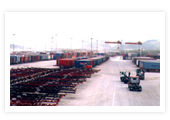 ---
Facilities
The Port compound comprises of 26.5 acres of container storage space, along with the maintenance and repair facilities encompassing approximately 53,600 square feet. The storage yard provides space for containers, automobiles, and general cargo storage. This well-lighted, secured area includes 858 stalls for chassis mounted containers and 180 stalls equipped with plug-ins to serve refrigerated containers.